2019.3.9 MERRY SMILE MINATO @Zojoji Temple English ver.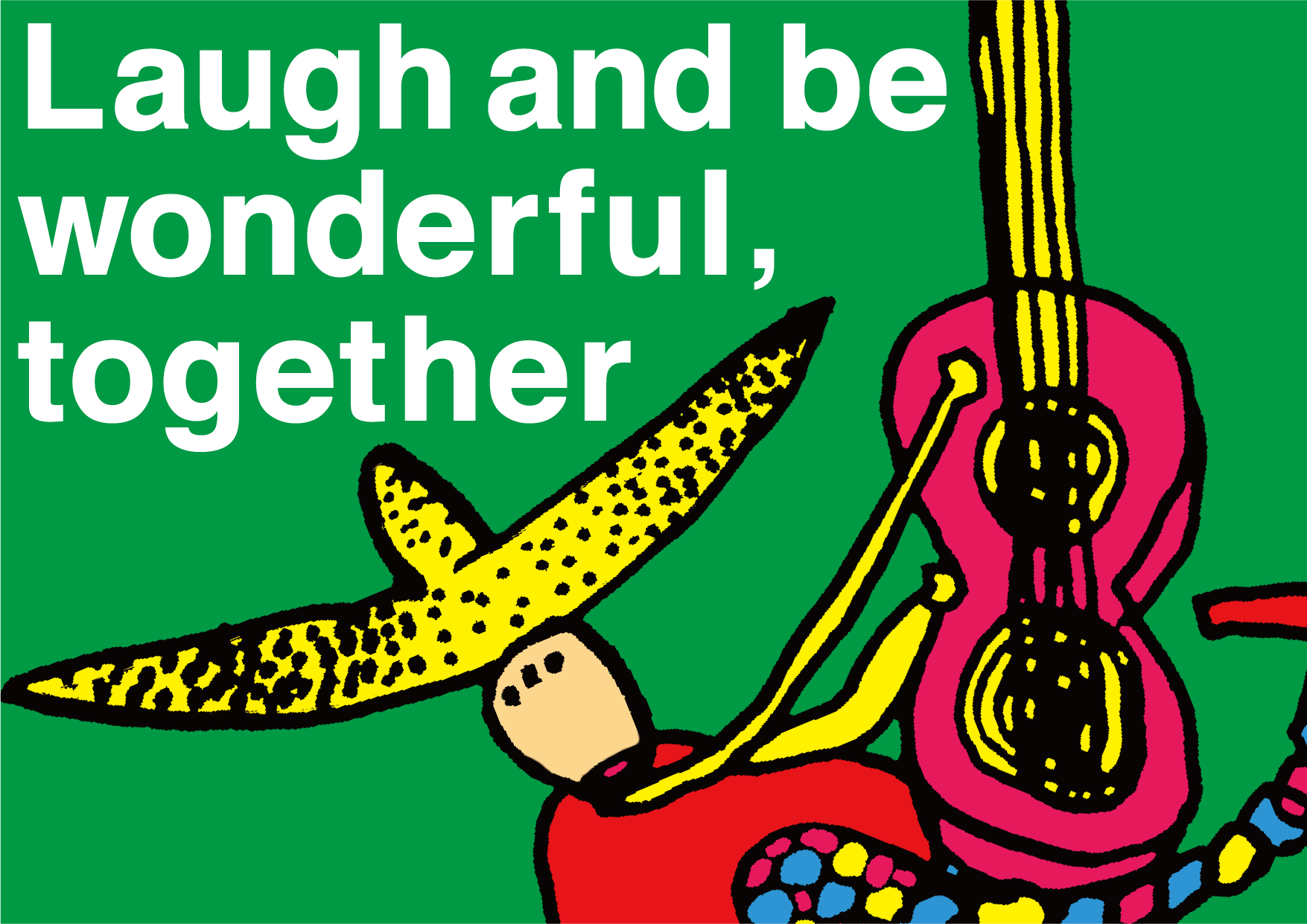 →日本語

  

→english  →中国語
Minato-ku Project Promoting the「2020 Tokyo Olympics Support Programme」
MERRY SMILE MINATO
Time:2019年3月9日(土)  13:00〜18:00 <Free>
Place:Zojoji Temple・Kosho Lecture Hall 

All are welcome to join us at Zojoji and enjoy a day filled with song, dance and art! Bring your bright and colorful personalities and together let's spread the image of our future by filling Minato-ku with smiles and laughter. Photographs of the Tohoku Recovery Project will also be on exhibition, showcasing the efforts of nearly eight years since the disaster in 2011.
Access Map
http://www.zojoji.or.jp/map/
Checkout the latest information on our Facebook Page!
→https://www.facebook.com/events/318193622126130/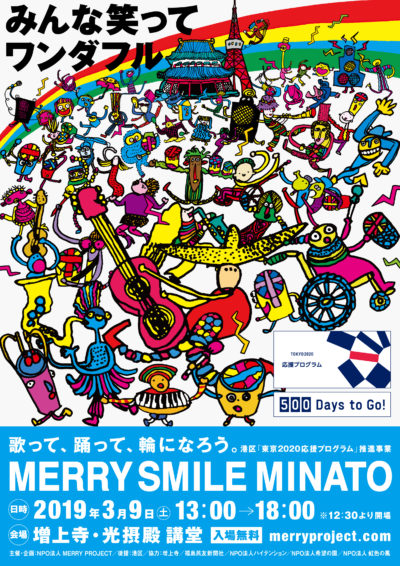 <Host Organization>MERRY PROJECT NPO 
<Support>Minato City
<Collaborators>Zojoji Temple/Fukushima Minyu Shimbun/NPO Hitension/NPO Kibounosono/NPO Nijiironokaze
---

※Starting time of each event might change. 
Schedule
<13:00>   Power in da Performance
<13:15>  DAKKI AKSON
<13:45>   Mocheer Cheer School
<14:00>   HUI HUI
<14:15>   BEYOND GIRLS
<14:40>   Kurassy!
<14:45>   Shinmei Kodomo Chuukosei Plaza 
<14:55>   Takanawa Kids Dance Smile
<15:25> Happy Come Come! Salsa with Kids Dance
<15:35>   Salsa with SOCIAL WORKEEERZ
<15:55>   Salsa Gum Tape
<16:25> Wonderful World 2020
Salsa Gum Tape&Everyone
<16:45>Open the Smile Umbrellas Together! ※For the commemoration Photo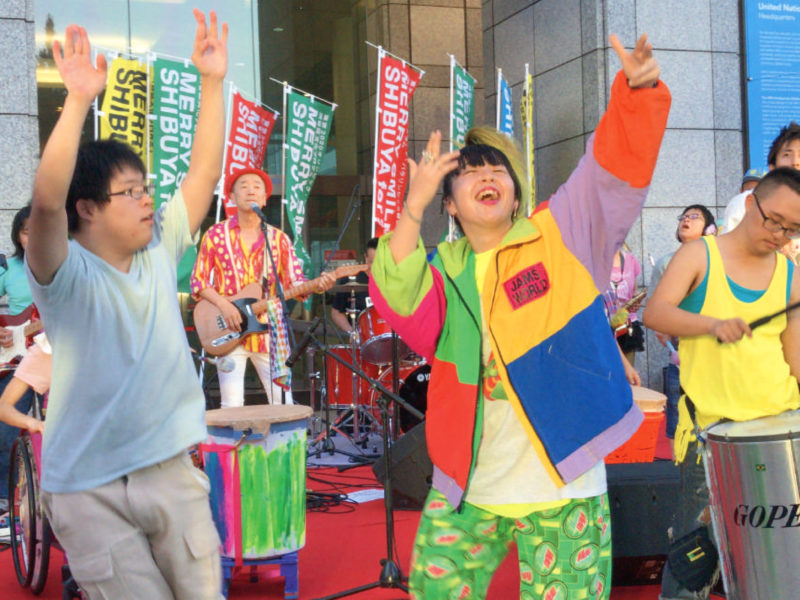 『Happy Come Come!Dance』Tutorial Video
https://www.youtube.com/watch?v=Mlvo9W-lj-8&t=2s
Barrier-free rock band "Salsa Gum Tape" will be performing 「Happy Come Come!」. Practice along to the dance tutorial video in the link below and join in the dance with everyone on the day the event!
→Watch the dance tutorial video!
---
【Introducing the Performers】
(Main stage Performance)

(Stage Performers)
Salsa Gum Tape/SOCIAL WORKEEERZ/Kibounosono・DAKKI AKSON/
MERRY PROJECT/BEYOND GIRLS/Mocheer Cheer School/HUIHUI/Kurassy!/Shinmei Kodomo Chuukosei Plaza/Takanawa Kids Dance Smile/Power in da Performance
---
【

Events・Gallery

】

【Special Program】8 years since the 2011 Tohoku Earthquake disaster:The road to recovery。
A photo gallery showing the efforts and results of the Tohoku Recovery Project over the 8 years since the 2011 Tohoku earthquake disaster. 
<Collaborator:Fukushima Minyu Shimbun>

Workshops for friends and family to connect Tokyo and Fukushima!
You can make taiko drums out of colorful gum tapes, or make smiles out of paper plates to decorate the "Tree of Hope" and add to the collection started by children who were effected by the Tohoku earthquake disaster.
→Join in the "Tree of Hope" Workshop!

In addition to music and dance performances,
art exhibition by Kibounosono and NPO Nijiironokaze, as well as various products from
Nihonbashi Fukushimakan MIDETTE will also be on sale.
---
<Host Organization>MERRY PROJECT NPO 
<Support>Minato City
<Collaborators>Zojoji Temple/Fukushima Minyu Shimbun/NPO Hitension/NPO Kibounosono/NPO Nijiironokaze